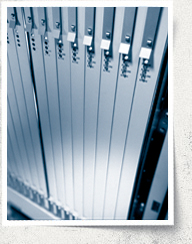 a3Rocks LLC
Has created this privacy statement in order to demonstrate our commitment to privacy to our customers and users. This Privacy Policy governs the manner in which A3Rocks LLC uses, maintains and discloses information collected from its customers and users of its website.

A3Rocks LLC reserves the right to assign subcontractors to a project to insure the right fit for the job as well as on-time completion.
Copyrights and Trademarks
The client represents to A3Rocks LLC and unconditionally guarantees that any elements of text, graphics, photos, designs, trademarks, or other artwork furnished to A3Rocks LLC for inclusion in web pages are owned by the client, or that the client has permission from the rightful owner to use each of these elements, and will hold harmless, protect, and defend A3Rocks LLC and its subcontractors from any claim or suit arising from the use of such elements furnished by the client.
Laws Affecting Electronic Commerce
From time to time governments enact laws and levy taxes and tariffs affecting Internet electronic commerce. The client agrees that the client is solely responsible for complying with such laws, taxes, and tariffs, and will hold harmless, protect, and defend A3Rocks LLC and its subcontractors from any claim, suit, penalty, tax, or tariff arising from the client's exercise of Internet electronic commerce.

Information We Collect
A3Rocks LLC may request or collect personal information from online users in a variety of ways, including through online forms for ordering products and services, and other instances where users are invited to volunteer such information.

The data we collect is information that identifies you personally, such as: Your name E-mail address, Postal address, Telephone, telefax numbers, URL, Credit card information and other billing information. a3Rocks may also collect information about how users access the website using a tracking ID unique to each user through the use of cookies.

Like most standard websites, we use log files. This information may include internet protocol (IP) addresses, browser type, internet service provider (ISP), referring/exit pages, platform type, date/time stamp, and number of clicks to analyze trends.
Payment of fees
In order for A3Rocks LLC to remain in business, payments must be made promptly. Delinquent bills will be assessed a $15 charge if payment is not received within 10 days of the due date. You agree to pay interest of 1.5% per month on ay fees or cost not paid within 30 days of the invoice date. You agree that the cost of collection, including attorney fees and court cost are to be paid by you if an action to collect unpaid invoices is necessary. A3Rocks LLC reserves the right to remove web pages from viewing on the Internet until final payment is made. This agreement becomes effective only when signed by A3Rocks LLC. Please pay on time.

Emergency Situation
In an emergency situation, A3Rocks LLC may at its discretion and without prior notice, take emergency intervention steps in a manner deemed appropriate by A3 to expeditiously terminate any threat posted by the emergency situation. Emergency situations that may require intervention may include but are not limited to:
A threat to the safety, stability, availability or security to the server, communications infrastructure.
Customers site, and or code is found or is suspected to be in violation of any applicable law, rule or regulation.
A lawful order from a court, law enforcement agency, government administrative agency or other public safety agency with jurisdictional authority.
Governing Law
A3Rocks LLC does not warrant that the functions contained in these web pages or the Internet website will meet the client's requirements or that the operation of the web pages will be uninterrupted or error-free. The entire risk as to the quality and performance of the web pages and website is with client. In no event will A3Rocks LLC be liable to the client or any third party for any damages, including any lost profits, lost savings or other incidental, consequential or special damages arising out of the operation of or inability to operate these web pages or website, even if A3Rocks LLC has been advised of the possibility of such damages. If any provision of this agreement shall be unlawful, void, or for any reason unenforceable, then that provision shall be deemed severable from this agreement and shall not affect the validity and enforceability of any remaining provisions. Any legal proceedings venue shall be in the Hancock County Indiana Courts, and you agree to the jurisdiction and venue of such court.
Email liability
Email transmission cannot be guaranteed to be secure or error free for many reasons, for example information can be intercepted, corrupted, lost, destroyed, delayed or be incomplete or contain viruses.
YOU SHOULD ALWAYS CARRY OUT YOUR OWN VIRUS CHECK BEFORE OPENING ANY ATTACHMENT.
Emails and any files attached to them have been checked with virus detection software before transmission. However, Exclaimer Limited accepts no liability for any loss or damage which may be caused by viruses or other pernicious code or third party action.
Virus Protection Tips

There are several sound anti-virus practices you can employ, many of which involve email and email attachments.

Use extreme caution when opening attachments that end in .exe, .com, .bat, or .shs. It is especially easy to hide viruses in these types of files.
Do not open attachments from a sender you do not know or recognize.
Verify all unexpected email attachments received from trusted sources before opening them.
Heed any security warnings presented while opening an attachment.
Limitation of Liability
Our liability to you for any losses and costs connected with the sale of products or services to you shall not exceed the amount you originally paid us for the products or services in respect of which your claim relates.

In no event will we be liable to you for any indirect or consequential damages even if we have been advised of the possibility of such damages. In particular without limiting the generality of the foregoing we accept no liability for any defective programmes, code or loss or corruption of data made or stored using products obtained from us nor for the costs of recovering or replacing such programmes code or data.

If you are dissatisfied with the Services or any content on a3rocks, or with these Terms and Conditions, your sole and exclusive remedy is to discontinue using the Services. You acknowledge, by your use of the Services, that your use of the Services is at your sole risk.

Legal Disclaimer
Though we make every effort to preserve your privacy, we may need to disclose personal information when required by law, if we have a good-faith belief that such action is necessary and required to comply with a current judicial proceeding, a court order, subpoena or other legal process served on A3Rocks LLC.
A3Rocks LLC is concerned with the privacy of on-line communications and web sites. In general, the Internet is neither more nor less secure than other means of communication, including mail, facsimile, and voice telephone service, all of which can be intercepted and otherwise compromised. As a matter of prudence, however, A3Rocks LLC urges its subscribers to assume that all of their on-line communications are insecure. A3Rocks LLC cannot take any responsibility for the security of information transmitted over A3Rocks LLC facilities.

A3Rocks LLC will not intentionally monitor private electronic mail messages sent or received by its subscribers unless required to do so by law, governmental authority, or when public safety is at stake. A3Rocks LLC may, however, monitor its service electronically to determine that its facilities are operating satisfactorily. Also, A3Rocks LLC may disclose information, including but not limited to, information concerning a subscriber, a transmission made using our network, or a web site, in order to comply with a court order, subpoena, summons, discovery request, warrant, statute, regulation, or governmental request. A3Rocks LLC assumes no obligation to inform the subscriber that subscriber information has been provided and in some cases may be prohibited by law from giving such notice. Finally, A3Rocks LLC may disclose subscriber information or information transmitted over its network where necessary to protect A3Rocks LLC and others from harm, or where such disclosure is necessary to the proper operation of the system.

The following policies are designed to protect all A3Rocks LLC Web hosting clients to ensure the best service possible with minimal problems. Your acceptance of hosting services provided by A3Rocks LLC indicates your agreement to abide by these policies.

Violation of these policies could result in immediate termination of service with no refund of fees. Policies forbidding spamming, adult content, and illegal activities will be strictly enforced. If you have any questions, feel free to contact us at support@a3rocks.com.
All hosting and related services may be used for lawful purposes only. The following content and activities are not allowed:
No transmission, storage, or presentation of:
Spamming -- Sending unsolicited bulk and/or commercial messages over the Internet (known as "spamming"). It is not only harmful because of its negative impact on consumer attitudes toward A3ROCKS, but also because it can overload A3Rocks LLC network and disrupt service to A3Rocks LLC subscribers. Also, maintaining an open SMTP relay is prohibited. When a complaint is received, A3Rocks LLC has the discretion to determine from all of the evidence whether the email recipients were from an "opt-in" email list.
Intellectual Property Violations -- Engaging in any activity that infringes or misappropriates the intellectual property rights of others, including copyrights, trademarks, service marks, trade secrets, software piracy, and patents held by individuals, corporations, or other entities. Also, engaging in activity that violates privacy, publicity, or other personal rights of others. A3Rocks LLC is required by law to remove or block access to customer content upon receipt of a proper notice of copyright infringement. It is also A3Rocks LLC policy to terminate the privileges of customers who commit repeat violations of copyright laws.
Obscene Speech or Materials -- Using A3Rocks LLC network to advertise, transmit, store, post, display, or otherwise make available child pornography or obscene speech or material. A3Rocks LLC is required by law to notify law enforcement agencies when it becomes aware of the presence of child pornography on or being transmitted through A3Rocks LLC network.
Defamatory or Abusive Language -- Using A3Rocks LLC network as a means to transmit or post defamatory, harassing, abusive, or threatening language.
Forging of Headers -- Forging or misrepresenting message headers, whether in whole or in part, to mask the originator of the message.
Illegal or Unauthorized Access to Other Computers or Networks -- Accessing illegally or without authorization computers, accounts, or networks belonging to another party, or attempting to penetrate security measures of another individual's system (often known as "hacking"). Also, any activity that might be used as a precursor to an attempted system penetration (i.e. port scan, stealth scan, or other information gathering activity).
Distribution of Internet Viruses, Worms, Trojan Horses, or Other Destructive Activities -- Distributing information regarding the creation of and sending Internet viruses, worms, Trojan horses, pinging, flooding, mailbombing, or denial of service attacks. Also, activities that disrupt the use of or interfere with the ability of others to effectively use the network or any connected network, system, service, or equipment.
Facilitating a Violation of this AUP -- Advertising, transmitting, or otherwise making available any software, program, product, or service that is designed to violate this AUP, which includes the facilitation of the means to spam, initiation of pinging, flooding, mailbombing, denial of service attacks, and piracy of software.
Export Control Violations -- Exporting encryption software over the Internet or otherwise, to points outside the United States.
Usenet Groups -- A3Rocks LLC reserves the right not to accept postings from newsgroups where we have actual knowledge that the content of the newsgroup violates the AUP.
Other Illegal Activities -- Engaging in activities that are determined to be illegal, including advertising, transmitting, or otherwise making available ponzi schemes, pyramid schemes, fraudulently charging credit cards, and pirating software.
Other Activities -- Engaging in activities, whether lawful or unlawful, that A3ROCKS determines to be harmful to its subscribers, operations, reputation, goodwill, or customer relations.

Failure to follow any term or condition of these policies will be grounds for account suspension or cancellation. Activity which causes harm or serious degradation of service to other clients will be grounds for immediate suspension without prior notice.

We reserve the right to refuse, cancel, or suspend service at our sole discretion. Activity which results in a suspension or cancellation of an account could result in a forfeiture of fees paid. Complaints made by other clients or Internet users regarding abuses of an account will be grounds for suspension. Please direct any reports of violations of the above policies to technical support.

As a subscriber of web hosting services, you agree to indemnify and hold harmless A3Rocks LLC, and its agents and/or third party providers from any claims brought by or against you as a result of the use of these web hosting services. The A3Rocks LLC website contains links to other sites. Please be aware that A3Rocks LLC is not responsible for the privacy practices of the other sites.